marketing
Organic Marketing
Written on 05 December 2021
I recently tweeted about how the secret to finding success for organic marketing is having a boss who is willing to wait for the results and who protects the team from "business metrics" people so that the team can experiment and fail.
I think I struck a chord with many marketers who have been expected to show immediate results, especially revenue, with their organic marketing. (It's my most-liked and retweeted tweet ever!)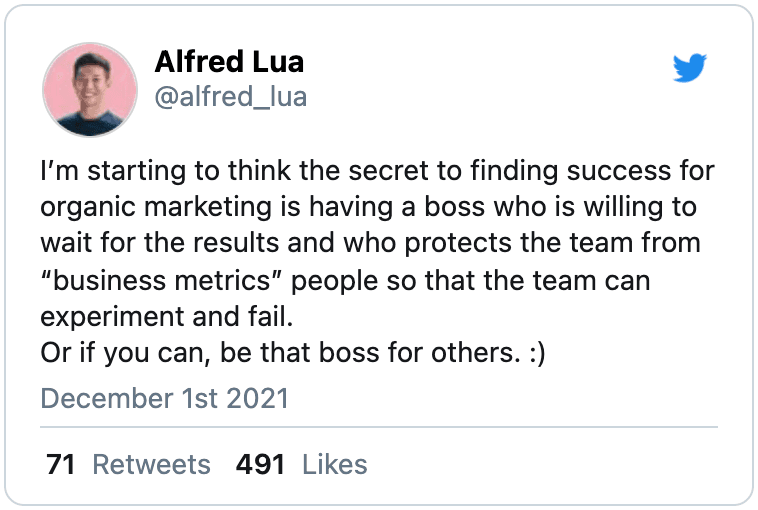 Freedom to play the long game
I was fortunate to start my career at Buffer, where we prioritized organic marketing and had the space to work on projects that do not have immediate revenue results.
Two examples come to mind.
First, while working on the blog, my managing editor Ash Read and I were given the freedom to experiment with ideas that grew the blog but might not bring signups immediately. I believe my manager Kevan Lee went as far as removing signup goals for our blog so that we would feel free to be creative. The goal for our content is to reach as many people who are interested in social media as possible and create a positive association with our brand. That approach to content eventually also led the team to expand into podcasting and have three successful podcasts (The Science of Social Media, Breaking Brand, and Small Business, Big Lessons), with hundreds of episodes, millions of downloads, and countless mentions.
Second, I built a page that had almost no results for two years. From my experience writing for the blog, I felt we should rank for the keyword, 'social media marketing'. So I created a "What Is Social Media Marketing" page. It didn't get much traffic for one to two years but eventually attracted 30,000 to 40,000 visitors every month.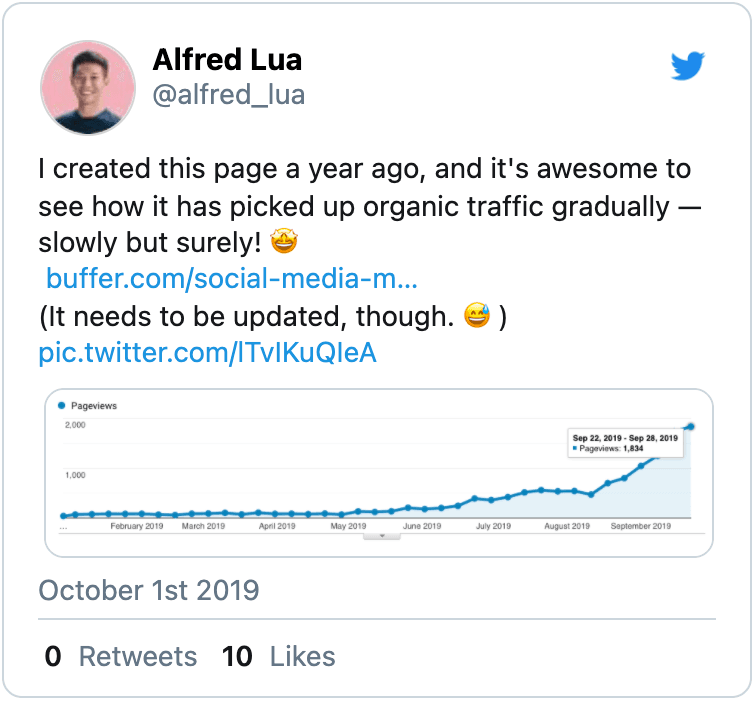 Searching the URL on Twitter, I noticed that many students have been sharing it. While they might not be actively looking for a social media tool right now, they are people who are interested in social media marketing and will be soon joining a company, creating their own company, or becoming a creator. There's a good chance Buffer will be one of the options they consider when they are looking for a tool, especially since they had a positive interaction with our brand.
Any sizable return on the page was probably reaped about three years after I built it. This project wouldn't have been approved in many companies, especially since it didn't even get much traffic for a year. But thankfully, I didn't have to show the results immediately (or later) for this project. We felt it was the right thing to do, and it was in line with our branding goal.
Creating space for organic marketing
I can think of three ways to allow the marketing team to work on projects that would take time to show results:
Have a founder that understands organic marketing because a founder usually doesn't have to justify to anyone (unless there's a board)
Join a startup that already has a culture for such longer-term projects (e.g. Buffer, HubSpot)
Educate the company and create such a culture
Here's what I have been doing at ReferralCandy:
1. Set expectations with managers and the team
I'm responsible for the business metrics for the marketing team, such as signups, trial starts, and new MRR. And I report them to my CEO and the management team.
My team is not directly responsible for these metrics and generally does not need to report on them. So they feel less pressured that their work has to lead to signups directly.
My CEO gets business metrics updates from me while my team has the space to do their creative work. Win-win!
But my team and I have a shared understanding that if we as a team do our various parts (branding, product marketing, and business development) right, we should see our signups and revenue go up. If not, we need to (1) look into our various areas to see if we are doing things right and (2) consider if we have chosen the right areas. The latter is mostly my responsibility as I build the team according to the areas I believe we should invest in.
2. Take a portfolio approach
At the end of the day, businesses need to get results. There's no long term if the business can't survive the short term. But there might not be a long term if it only focuses on the short term.
An option is to place your resources in a few different buckets, like a financial portfolio. My manager Kevan Lee, now VP of Marketing at Oyster, wrote about two examples of this:
Coca-Cola's 70/20/10
Reforge's multichannel portfolio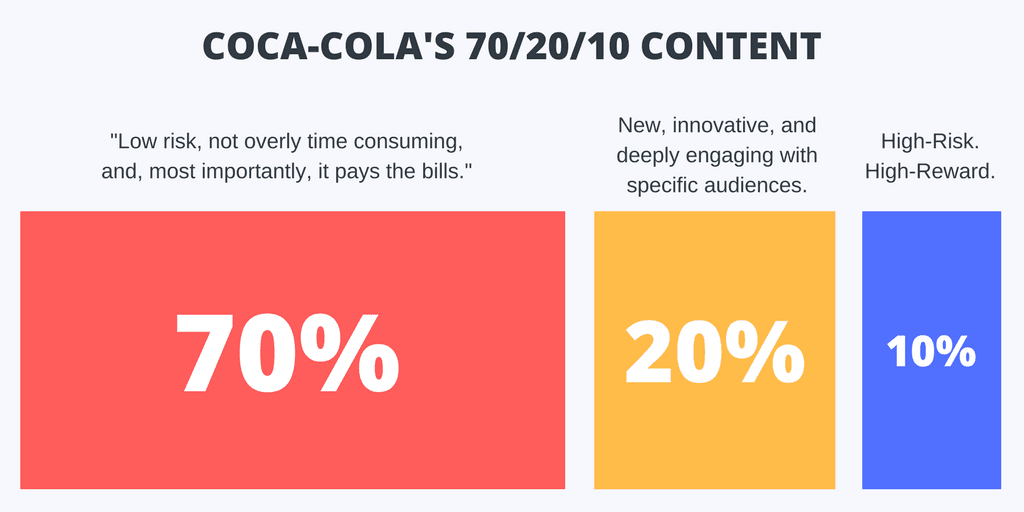 At ReferralCandy, we invest in a mix of validated channels (e.g. content marketing and agency partnerships) and new channels (e.g. social media, sponsorship, and product marketing).
3. Educate the rest of the company
I was lucky to start my marketing career at Buffer, where almost everyone understood our marketing. But I learned that isn't the case for every company (which is understandable!)
As the marketing lead, I have been advocating for the marketing team by educating other teams (engineering, product, customer success, and ops) on why the marketing team does what we do and the value of our work.
For example, at this week's all-hands, I explained why we are growing our brand awareness (to reach and help as many ecommerce merchants as possible so that ReferralCandy will be top of mind when they are finding new ways to grow their business.) I also went through an example of how we are growing our brand awareness by updating an old blog post, repurposing it on social media, and sharing it with our blog subscribers.
Like organic marketing, such education would take time and repetition. But it will gradually give you more space to experiment with longer-term projects.
---
As ad costs continue to rise, I believe more marketers would start thinking more about how organic marketing can help complement their paid marketing work.
What do you think?